PREFACE



ALFONS MUCHA - KNIHY A ČASOPISY

published in 1993 by Pavel Nosek is the most comprehensive compendium ever written on publications that reproduces Mucha's works during his lifetime. This book should not be regarded as a bibliography, but rather as a catalog. It presents in chronological order the 260 publications identified at that time by the author- the result of research that can be characterized as monastic. For comparison, in 1980 only 90 publications were identified but 660 are now on this website.

This research has structured and enriched my personal work and helped create the Alfons Maria Mucha website. I cannot express my gratitude for the amount of research Pavel Nosek accomplished before I joined this project.

This catalog was written in Czech – a language little understood outside of its native land - and have not benefited from a very wide distribution. Today, it becomes accessible to all on the Alfons Maria Mucha website To overcome the language barrier, it has been translated into English.

As a first step, the catalog is available on the website in its original version (adapted) in PDF format. An English version is now available and formatted in PDF format according to the standards of editorial and typographical rules as adopted today. The final step is the establishment of full interactivity with the data contained on this site. These versions are designed to meet the requirements of the widest readership.

These files can be freely downloaded or viewed directly in the browser :



Alphonse Mucha - Books and Periodicals.



Alfons Mucha - Knihy a časopisy

The catalog has never been reissued and the content never updated by its author. However, I hope that in the near future Pavel Nosek will be able to increase the list by newly discovered publications.

I once again wish to thank Dr. Anna Dvořák, Robert Haas et al. for their invaluable help and patience.




Christian Richet, 2012
ABOUT THE AUTHOR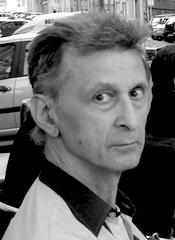 Pavel Nosek is born in 1943 in Hradec Králové, where he graduated from junior college. In 1960, following a successful participation in the International Mathematical Olympiad, he was accepted as a student in the Department of Mathematics and Physics at Charles University in Prague. He completed his studies in 1967, and after fulfilling compulsory basic military training, he accepted a position initially at the Federal Research Institute of Transportation and finally at the City Development Authority Prague, where he is still employed.

The beginnings of Nosek's interest in Alphonse Mucha dates to 1970, when he purchased the Czech edition of Ilsée, princesse de Tripoli in a second-hand bookstore and was enchanted by Mucha's illustrations. A colleague told him about the extensive series of paintings by the same artist at the castle of Moravský Krumlov, and after seeing The Slav Epic, Pavel Nosek's interest in Mucha's oeuvre deepened. Since information about Mucha's posters, panels, books and magazines was meager, especially when it concerned Czech publications, Nosek began searching for other available resources. Extensive catalogs published in 1980 at the occasion of an international retrospective exhibition of Mucha's work inspired him to complement their bibliographies with additional information. This activity brought Nosek to attention of the artist's son Jiří Mucha, who enthusiastically offered him his vast collection of archival material for research. During Jiří's frequent absences from Prague, as well as in the years following his death, Nosek's research activities concentrated on books, magazines and ephemeral material available in various public archives and libraries. Wishing to avoid decisions concerning the ever-increasing number of forgeries appearing on the art market, he intentionally concentrated on works published during Alphonse Mucha's lifetime.

Interests and hobbies:
- Speleology: participation in international research expeditions (Yugoslavia, Rumania, Hungary, Slovakia). Longstanding member of the Board of the Czech Speleological Society (ČSS). For a number of years he was also chairman of the primary organization of ČSS "Zlatý kůň" [The Golden Horse], named after a hill near Prague. In the nineteen-fifties, the location became known for its stalagmite and stalagtite caverns, and the group established its base there.
- Comics, fantasy literature: publication of a number of comics produced by Kája Saudek as a supplement of the speleological bulletin, and illegally published during the Communist regime under the protection of ČSS. After 1989, he was publisher and editor of the independent publishing house Zlatý kůň [The Golden Horse], which in addition to professional speleological publications also published other literary works. These included a complete edition of the writings by H. P. Lovecraft (which was awarded the "Ludvík" award). Nosek was the author of a compilation of comics by Kája Saudek and a catalog of illustrations by Alphonse Mucha. He also cooperated on several exhibitions of comics by Kája Saudek.
- Sci-fi: long lasting membership in the "Klub J. Vernea" [Club Jules Verne]. He cooperated on publication of several fan-zines and sci-fi compilations.
- Film: memberships in various film clubs, enabling members private viewing of films that could not be viewed in public movie theaters during the Communist regime, or were not imported (works by Passolini, Bertolucci, Visconti, Fellini and F. Lang, as well as many animated films, notably by Disney, Miyazaki and others).